Secure payment
You have the choice between several methods of payment. You can choose your payment method during the last stage of your order.
Credit card
Payment by bank or credit card is entirely taken care of by our banking partner Caisse d'Epargne in complete security. Your banking information is never in our possession. We accept payments by CB, Visa and Mastercard.
Paypal
If you wish to pay with Paypal you can click on the Paypal logo on the order page and then you will be connected to your paypal account. Paypal also offers payment using your credit card or bank account if you prefer.
Gift code
To pay using a gift code simply add your articles to the cart as normal and then on the Cart page enter your gift code in the box marked Vouchers. If your gift code is not sufficient for the total of your order then you can pay the remainder using another payment method.
Happy shopping with complete safety.
Home
No products
Shipping 0,00 €
Total 0,00 €
Information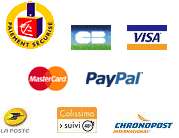 contact@la-maison-du-cristal.fr - https://www.la-maison-du-cristal.fr
Maison Cristal - 34 Chemin du Poudeirac - 06650 Opio - France - Tél : +33 (0)4.83.05.67.17